10 – 15 June 2023, the officials of the RSL departments of Client Services and of Library Information Systems took part in the events of the All-Russian Library Congress – 27
th
Annual Conference of Russian Library Association organized in Murmansk, "Library Capital 2023", with the financial support of the
Government of the Murmansk region
.
As the Russian Library Association president Mikhail D. Afanasyev pointed out in his speech, 951 person registered themselves to participate in the main library event of the nation, 634 speeches were presented (17 of which were video speeches), representatives of 68 regions of Russia addressed the audience. Discussions were organized at 55 meetings, that including field sessions. Despite all plans, one of the events was online. Thus, librarians and publishers, IT specialists and scientists could share their experience of running library activities in the age of digital technologies, discuss the challenges the professionals of nowadays had to face, and evaluate prospects of library development in the conditions of the special war operation.
For the attendees of the congress events, the representatives of the Russian State Library gave a detailed talk on the digital services the library offered its readers, especially worked out on the basis of their interests and demands revealed via constant monitoring and analysis of the feedback provided by users be they ordinary readers or librarians of the partner libraries.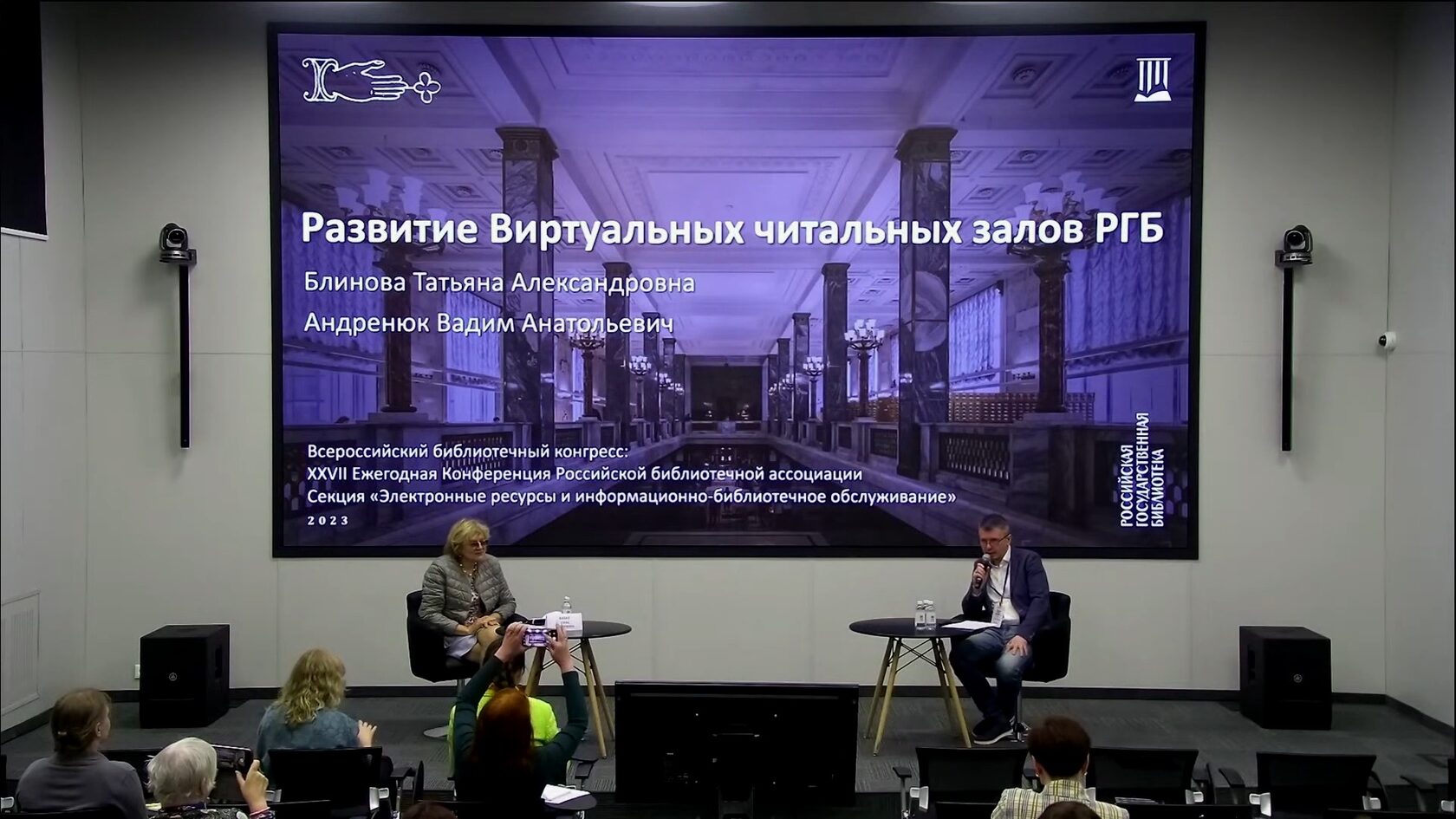 During section "Electronic resources and library and information service", the section devoted to the interlibrary loans and document delivery, as well as the section of higher-education libraries, research and technical libraries, Ms Tatyana A. Blinova, Mr Vadim A.Andreniuk, Ms Elena N.Ivanova and Ms Natalia V.Kozlova presented the collections of the RSL digital library and capabilities of users of RSL virtual reading rooms.
They would also introduce technical solutions for plagiarism tests and dwelled upon the role of research libraries in the system of academic ethics. The participants of the Murmansk congress were demonstrated new options and advanced services for VRR RSL readers, one of which was digitization on demand and the other one was making thematic collections from the RSL assemblage. Another service which was likely to be appreciated by users was creation of unique thematic collections of documents and author's specialized projects within the framework of access to the National Electronic Library.
In the end of the final plenary meeting there was announced the city to be appointed the "Library Capital 2024". It turned out to be Kazan, thus Irada Kh.Ayupova, minister of culture of the Republic of Tatarstan, was handed an honourary symbol.
We are looking for you participating in the events of the All-Russian Library Congress 2024!
You are welcome to view the materials of section "Electronic resources and library and information service" (
https://www.youtube.com/watch?v=zr0Ui6sEF64
) and other videos of the All-Russian Library Congress on its website
http://www.rba.ru/activities/conference/conf-2023/index/
.